Safeguarding
At Seething and Mundham Primary school we take safeguarding and child protection seriously, our aim is to protect all children from harm and promote positive wellbeing. We do this by engendering a culture of safeguarding in school. We use the moto "it could happen here," as well as "what if you don't……".
In school we use a system called MyConcern which all staff use to report concerns with regards to children. MyConcern replaces the paper files that used to be used to track, monitor and evidence our concerns and actions. As well as training on this, all staff receive annual training on Safeguarding, key documents such as Keeping Children Safe in Education, as well as weekly updates and refreshers on areas of Safeguarding, including Prevent and Suicidal Ideation.
Our safeguarding team (seen on the poster below) meet weekly to discuss current cases, review and learn from actions, as well as assign actions and undertake training. Should one of our safeguarding team call or speak to you face to face please know that these conversations (which are often difficult for both parties) are for the best of the children. They are not accusations, nor will it automatically lead to involvement of children's services (although we do call them in some cases for advice and support) but are to serve the best interest of the child.
We are also part of Operation Encompass. This is a notification system from the police to schools, it informs us of Domestic abuse incidents reported to the police. We receive an encoded notification with as much detail as appropriate from the police. We will log this on MyConcern and follow this up with you to ensure the child(ren) are safe and well. This is our duty of care.
If you have a concern about a child outside of school hours you can call:
Children's services
NSPCC
School Out of Hours
Safeguarding Policy September 2022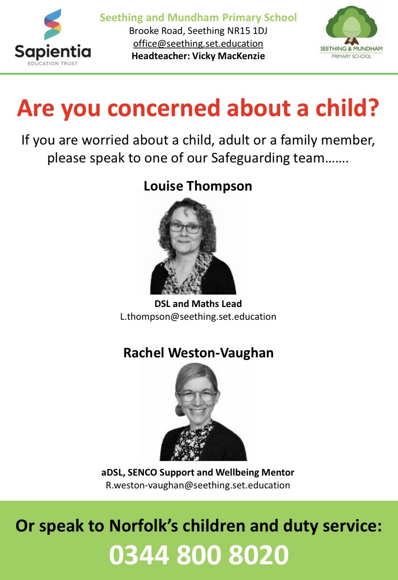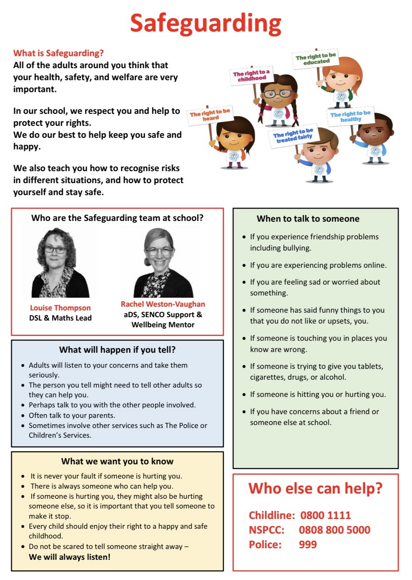 Children's Safeguarding Poster